Comtech Research
Your Source for
Indoor Air Quality
High-output Negative Ionizer for 12 Volt DC mobile and Scientific Research use

| | | |
| --- | --- | --- |
| | Phone orders: 866-466-4937 | NEWS | |
This model is NOT recommended for indoor use except for laboratory research. Indoor use usually requires a special power supply and special ground adapter (available; not included). Operation of this model at higher output levels may cause gray-walling in some environments.
Please e-mail or call for details.

For indoor use, we highly recommend our IG-133-Series of room ionizers, which produce plenty of high-density negative ions.
Negative ion generator for mobile, marine, or research use using 12 volts DC negative ground

Helps remove dust, pollen, mold particles, etc. from the air

NOT an ozone generator

Will NOT deteriorate or discolor nearby objects like many ozone-generating "ionizers" do

Adjustable negative ion output from near zero up to twice the power of our other ionizers. The most powerful mobile ionizer available anywhere.
Negative ion output adjustment
Close-up view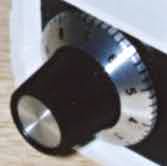 SPECIFICATIONS:
Power requirements:
12 volts DC (nominal) at .07 amps
Negative ground
Suggested voltage range:
12 to 13.8 volts DC (this is the normal voltage range of a common lead-acid car battery)
Maximum voltage range for reliable operation: 9 to 14 volts DC


Manufactured in our Missouri, USA facility.
Includes the following accessories at no extra charge:

Quality engineered and constructed

Will not interfere with radio reception

60-day money-back trial period

Five-year warranty

Not recommended for use with AC adapter / wall transformer.

Only $229.00 each

DISCOUNT: Order 2 or more at one time (or with a room ionizer, etc.) and save 10%: only $206.10 ea.

The IG-1215 is not always stocked, but readily available upon request.

Factory-installed mounting brackets available, please specify when ordering ($15.00 extra).
SEE ALSO our model
AutoMate car ionizer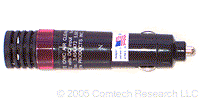 Order a negative ion generator